John Lewis: A Tribute
July 26, 2020
Civil rights legend John Lewis may no longer be with us, but his life should continue to inspire us to action.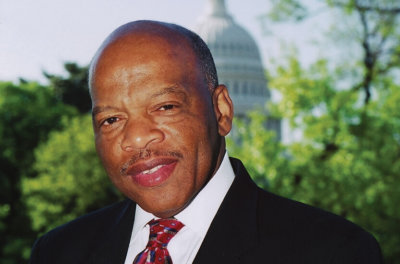 On July 17, America lost one of the great heroes of our time. John Lewis, who was brutally beaten while trying to walk from Selma to Montgomery, Alabama to press the governor for voting rights, and then went on to serve more than 30 years as a beloved member of Congress from Atlanta, remained a steadfast voice for justice until his final days. The lessons of his life and work are many, and all feel as urgent as ever. One of those lessons is this: when there is work to be done to make our country better, do it – and don't stop.
Lewis said that he was inspired to action by Martin Luther King, Jr., who rallied people not in an abstract search for justice, but urgently around the problems Black Americans faced at that moment. Speaking at the 1963 March on Washington, Lewis told the crowd of 250,000 people, "To those who have said, 'Be patient and wait,' we have long said that we cannot be patient. We do not want our freedom gradually, but we want to be free now!"
Lewis acted in the face of injustice – and never stopped. In "Good Trouble," a recent documentary on his life, Lewis, then in his 80s, describes asking himself "What more can I do?" That theme is unending in Lewis's career. In a 2015 speech commemorating the 50th anniversary of the Selma to Montgomery march, Lewis said "We must use this moment to recommit ourselves to do all we can to finish the work. There is still work left to be done. Get out there and push and pull until we redeem the soul of America."
The push and pull took many forms for Lewis, from acting as the often-called "conscience of Congress" to leading children on a march around the convention center hosting Comic Con, dressed as his younger self. (His own comic book, March, is a great pick for the aspiring young voter in your life.)
Erika Alexander, producer of "Good Trouble," tells of how she admires Lewis's discipline. "Sometimes you feel like you're not making headway but he shows you that just by being consistent every day, you can break through. He's one of the founding fathers of America as far as I'm concerned. I like that being disciplined and consistent can bear real big fruit, that the quiet discipline of it is as fierce as any knife or loud talking that someone could do."
In his forthcoming biography of Lewis, historian Jon Meacham recounts interviewing his subject several weeks before his death. In their conversation, Lewis said that he feels restless. "Think about that for a second," Meacham marvels. "You're John Lewis, you have helped change the arc of a powerful nation, the most powerful empire since Rome, and you have achieved all of this, and he said he felt restless because he wanted to do more. He wanted to do more."
We, too, can do more. There is always more work to be done toward forming a more perfect union, and we all have a responsibility to do that work, whatever our resources or abilities. This week, we remember John Lewis and thank him for lighting our way.
# # #
This article originally appeared in the July 26, 2020 issue of Wide Angle, our regular newsletter designed, we hope, to inform rather than inflame. Each edition brings you original articles by Common Ground Solutions, a quiz, and published articles — from across the political spectrum — that we think are worth reading. We make a special effort to cover good work being done to bridge political divides, and to offer constructive information on ways our readers can engage in the political process and make a difference on issues that matter to them.
Sign up below to receive future issues.